Sometimes I wonder if we take the rules a little too seriously. I said to my wife this morning: "have you seen the weather?" She replied: "here we go...rule one!" with more than a hint of sarcasm. She wasn't calling me a wimp she was more preparing to mock me for the fact I was pointing out just how badass I thought I was for venturing out on such a day Me being me, I made sure she understood that rule 1 was in fact 'its always about the bike,' rule 5 is to 'harden the f*** up,' and that she might indeed mean rule #9. The next enquiry was why I was, on such a badass day, venturing out in shorts and and a short sleeved jersey. I told her it wasn't cold and I would wear my almost showerproof jacket and besides my feet were already sweating in my seal skinz socks. As it turned out that was more than enough on this bizarrely mild November day.
Fair-weather riding is a luxury reserved for Sunday afternoons and wide boulevards. Those who ride in foul weather – be it cold, wet, or inordinately hot – are members of a special club of riders who, on the morning of a big ride, pull back the curtain to check the weather and, upon seeing rain falling from the skies, allow a wry smile to spread across their face. This is a rider who loves the work.
The turn out at the shop was the lowest it's been in months. I could've predicted who'd be there for today's ride and frankly they're lucky I didn't assess any of them because I'm sure we're all detain-able for riding in that sort of weather. I also knew who'd stay safely tucked up in bed, you know who you are and we will ridicule you relentlessly for having more sense than us.
The lycra loonies gather
So how bad was this weather? Well it was perhaps the wettest day I've ridden in for a very long time. At times it was heavy rain. Also the wind was fierce at times especially for Andy on his aero Boardman with those exquisite Zipp wheels. Happily my bog standard mavic aksiums provide little resistance to side winds and also have more in the way of stopping power in the wet. Still I know which wheels I'd prefer! Anyway back to the weather...East Farndon Hill which is hard enough for a downhill specialist like me was brutal as it had a headwind today and to make matters worse it was during the time that the wind decided to really turn up! Did it ruin the ride? Of course not, we're nut jobs remember! We embraced the stupidity of the situation, laughed in the face of the gale and just got on with enjoying ourselves.
You're probably wondering at this point why I haven't started as usual with my strava link showing today's route...erm there may have been an epic fail. Despite having three pieces of technology capable of recording my ride I seem to have to forgotten to start any of: my phone, my Garmin Virb or my Cateye stealth. So here's a screen grab of Andy's ride instead. Strava fail...doh!
It was wet
autumnal scenes
Farndon Hill made much more challenging by a head wind!
Now for an update on our fallen comrade Andy Pendred. It's come to light that there may be a good reason he's keeping schtum about the nature of his accident. He was allegedly being very negligent at the time and an undisclosed source has uncovered that Andy has a new obsession in that he's discovered the twitter page
https://twitter.com/selfieonbike
. Now this particular twitter feed or whatever you call them really is quite distracting especially the regular hashtag #needsomeonetoride. If you check your twitter feed whilst riding your bike, accidents will happen. So no matter how tempting it's best to keep your hands on the bars!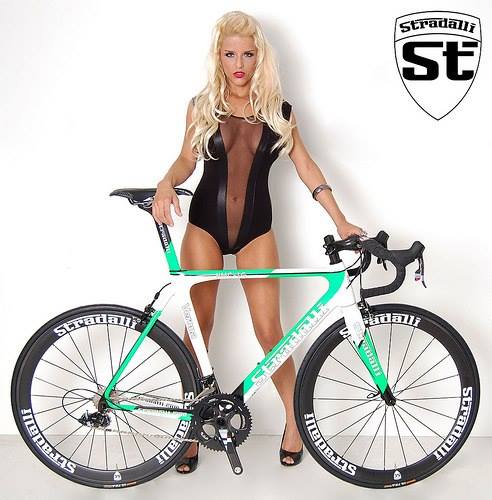 an example of the gratuitous sexism not approved of by this blogger and for research purposes only...
Oh OK I'm making that last bit up we still don't know what happened I just thought I'd cheer the old boy up. We're missing him on the club rides but I doubt that's anything compared to how much he's missing his bike whilst he recovers.
OK just a quickie today. The dogs need walking and then I'm off to the Saints, it's the memorial game with poppy wreath laying and the minute's silence which is always a bit special. I can't wait for tomorrow's ride though as we trail behind Big Steve and visit the former airfields of Northamptonshire which served us during WWII.
Happy Pedaling!